Inbound Leverages Digital Marketing for Manufacturers: 3 Case Studies!
3 min read
It's no secret that industrial buyers do plenty of independent research while considering a product or service. In fact, they spend about 27% of their time online compared to 18% offline1. Further, 62% of buyers identify internet searches as a primary research tool.2
The statistics speak to B2B buyers' preferences for online resources. They also reveal why marketing for manufacturers contains a strong digital component.
Digital marketing for manufacturers encompasses a number of tactics. Conversion touchpoints include display ads, targeted web pages and CTAs, blog posts, email marketing campaigns, content marketing, social media interaction, etc.
However, 77% of B2B buyers categorize their purchases as complex or difficult. As such, these standalone tools can fall short of providing enough information to sway decisions.1
Taking Digital Marketing for Manufacturers to the Next Level
That's where inbound marketing holds a decided advantage for manufacturers. Instead of using disparate digital elements, the inbound approach focuses on complete strategic integration to amplify marketing efforts (and accelerate results).
Digital marketing, then, is part of a larger inbound strategy that provides industry-specific content that simplifies purchase decisions. Helpful content gives industrial buyers the confidence to proceed with deals. They are 2.8 times more likely to make purchases, and 3 times more likely to commit to even larger deals.1
Inbound Marketing for Manufacturers: 3 Real-World Examples
What does reaching those buyers through inbound look like in the real world of industrial marketing? The buyer's journey isn't linear and can be lengthy, but you have a certain amount of control with inbound.
Formulaically, the customer-centric inbound methodology lies at the heart of the strategy: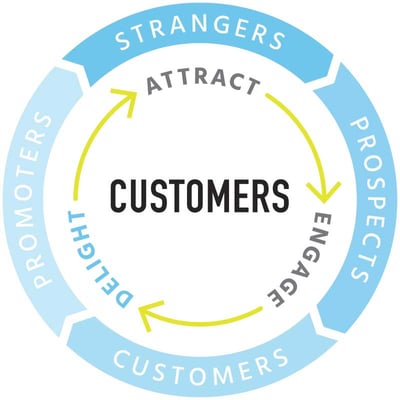 Within the inbound framework, using digital marketing tools helps position and distribute content, improve the user experience, and expand reach. Let's look at some actual industrial marketing examples from our clients. 
Carting Away New Leads
A mobile autonomous robotic cart manufacturer entered the market lacking important essentials — name recognition and a website. Raising awareness and interest was an immediate need to gain traction and generate leads.
Robust pay-per-click advertising campaigns were implemented across social platforms, the new website leveraged search engine optimization (SEO) techniques to garner search rankings, and targeted video, blog, and social media content established the company as a viable solutions provider.
About 4 months after implementing inbound, the cart manufacturer attracted 38 leads from organic traffic, 134 leads from paid advertising, and 212 LinkedIn followers.
RELATED: THE INBOUND MARKETER'S GUIDE TO PAID MEDIA 
Uncontained Growth Potential
A modified shipping container manufacturer had an existing inbound program that wasn't performing to growth goals.
After a complete corporate rebranding, the company had a website designed to maximize inbound conversions. Site content drove SEO value, and the website integrated robust digital tools and marketing automation for managing the buyer's journey including chatbots, revised forms, and Hubspot's Meeting Tool to simplify engagement with sales reps.
In just 4 months, overall blog views increased by 195%, product catalog views jumped 300%, and closing rates rose by 18%. Cumulatively, this resulted in a 14% increase in monthly sales, $592,000 in qualified sales opportunities, and 4 new customers.
LEARN MORE: READ THE FULL CASE STUDY HERE
A New Kind of Think Tank
An above-ground welded steel tank manufacturing company experienced chronically low web traffic due to a lack of relevant content, SEO strategy, and conversion opportunities. They moved toward more traditional tactics such as trade shows, but that didn't have the desired impact either.
The fix? Building a comprehensive inbound program to address the sluggish online performance, launching a robust social media program, and populating an SEO-driven blog.
In 3 months, website traffic shot up 119% and lead conversions topped an astounding 3,900%. Quote requests increased 500% — and the company secured $3 million in qualified sales opportunities.
LEARN MORE: READ THE FULL CASE STUDY HERE
It's estimated that 67% of the industrial buyer's journey is now done digitally.2 Opportunities for leads, conversions, and new customers are online — and B2B marketing with inbound can help you find them. However, you also need solid processes and technology in place to unify Marketing, Sales, and Service. Optimize revenue and improve profitability with the advice found in RevOps for Complex B2Bs and Industrial Manufacturers. Click to download your copy of this valuable guide. 
SOURCES
1Gartner, The B2B Buyer Journey, Undated
2Worldwide Business Research, Here's How the Relationship Between B2B Buying, Content, and Sales Reps Has Changed, Undated