PKR edges higher by 25 paisa in a week – Mettis Global Link
2 min read
December 02, 2022 (MLN): In response to the inflows of $500 million from the Asian Infrastructure Investment Bank (AIIB), the Pakistani rupee (PKR) has gained 25 paisa in five consecutive sessions as the currency settled the trade in the interbank market at PKR 223.69 per USD compared to the previous week's close of PKR 223.94 per USD.
Within today's session, the local unit traded in a band of 58 paisa per USD showing an intraday high bid of 223.83 and low offer of 223.70 while in the open market, PKR was traded at 228.75/231 per USD.
Throughout the week, PKR remained stable as the government measures along with inflows subdued chaos from the market.
In addition to it, the State Bank of Pakistan (SBP) on Thursday clarified that no restriction was imposed on the opening of Letters of Credit (LCs) or contracts for the import of crude oil, LNG, and petroleum products.
Meanwhile, the government is also working hard to stop the smuggling of dollars to neighboring countries, talking about the element of smuggling, Finance Minister Ishaq Dar said during the outgoing week.
Going forward, the local unit will hold its ground as Saudi Arabia has extended the term for a $3 billion deposit to SBP through Saudi Fund for Development (SFD).
The deposit aimed to shore up the foreign currency reserves and help Pakistan to face the economic repercussions of the COVID-19 pandemic. The funds will also contribute to meeting external sector challenges and achieving sustainable economic growth for the country.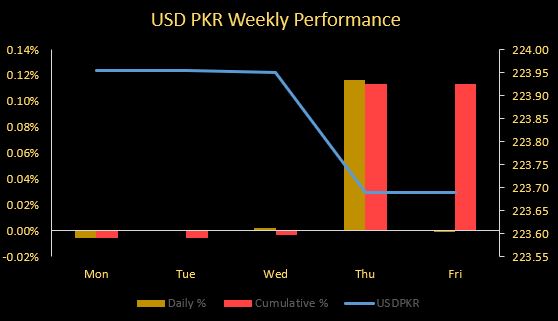 In FYTD, PKR lost 18.84 rupees or 8.84%, while it plummeted by 47.17 rupees or 21.09% against the USD in CYTD, as per data compiled by Mettis Global.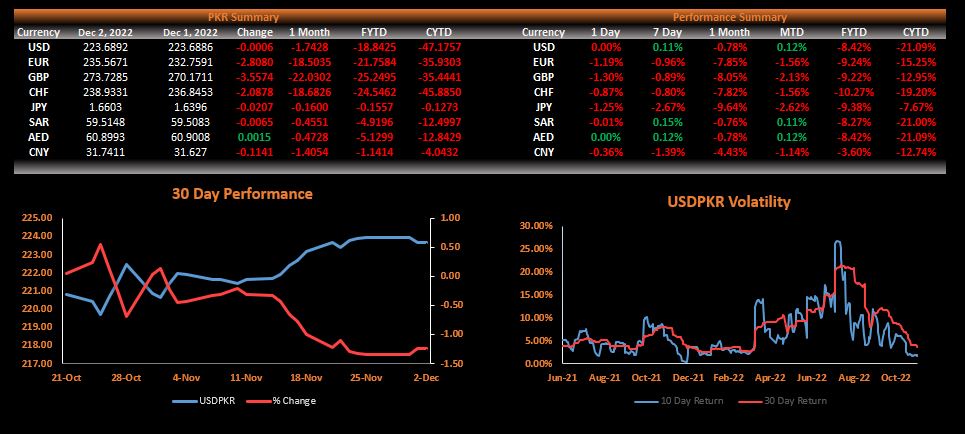 The currency lost 3.6 rupees to the Pound Sterling as the day's closing quote stood at PKR 273.73 per GBP, while the previous session closed at PKR 270.17 per GBP.
Similarly, PKR's value weakened by 2.8 rupees against EUR which closed at PKR 235.57 at the interbank today.
On another note, within the money market, the central bank conducted an Open Market Operation (OMO) today, in which it injected up to Rs246.9 billion from the market for 63 days at 16.09%.
The overnight repo rate towards the close of the session was 15.10/15.25%, whereas the 1-week rate was 15.85/15.95%.
Copyright Mettis Link News
Posted on:2022-12-02T17:50:24+05:00
36076