The 10 Best Blogging Platforms For Your Business
8 min read
Creating a blog is a great way to engage prospective customers by delivering targeted content relevant to their needs.
In fact, according to Hubspot, B2B companies that use blogs generate 67% more leads than those that don't. If you've decided that a blog can help you develop leads for your sales staff and grow your business, one of the first decisions you will need to make is choosing a blogging platform.
What are blogging platforms? Blogging platforms are software or tools that allow you to create, manage and publish a blog online. A blog is typically a section of your company's website and is updated frequently by adding new posts. These posts help your company rank on search engines, allow you to share information and become an expert in your industry, and attract visitors to your site.
The blogging platform you choose will depend on your needs. Blogging platforms will differ in themes and templates, SEO features and editing capabilities.
We've put together a list of the 10 best blogging platforms for your business we would recommend, though we encourage you to consider your capabilities, needs and goals before choosing which blogging platform is right for your company:
CMS Hub
WordPress
Wix
Squarespace
Weebly
Contently
Ghost
Joomla
Drupal
Bolt CMS
Note: This list is not ranked in best-to-worst order. While one platform may be the best platform for you, a different site may be a better fit for another company.
CMS Hub
CMS Hub, or Content Management System, is a great platform for both developers and marketers. It is designed to function as an all-in-one solution, offering tools, technologies and workflows needed to build and manage a customer relationship management (CRM)-powered blog. 
The blogging platform allows you to use a pre-designed theme or to build your own custom theme. The platform offers services like Hubspot's blog editor, built-in SEO tools and other interactive elements that allow you to create items like CTA's and forms.
This platform also allows you to create multi-language variations of a blog post, as well as run A/B tests to better allow you to reach a global audience. 
While these advanced features offer powerful tools for growing your business and offer a compelling reason why you should choose CMS Hub, there's one important note to consider. If you're an individual or small business and are in the beginning stages of blogging or implementing a marketing plan, you may not have the time or expertise to fully take advantage of all of the solutions CMS Hub offers. Otherwise, CMS Hub is an excellent choice.
Cost: CMS Hub starts at $23 per month for a starter subscription, with plans that feature additional services running $360 to $1,200 per month.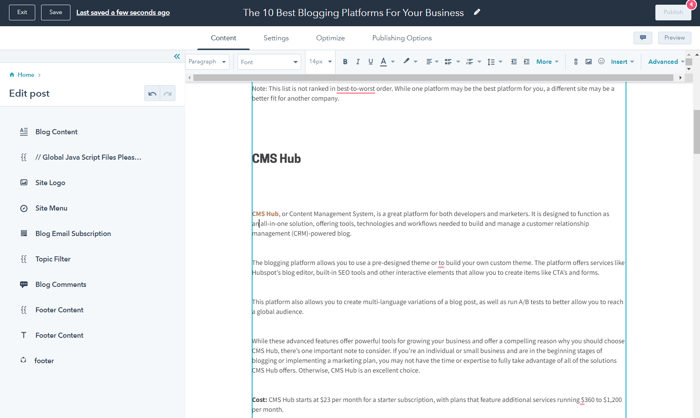 WordPress
WordPress is one of the most popular blogging platforms out there. This site was originally created to serve as a blogging platform, though it has evolved to become a content management system.
WordPress offers more than 3,500 blog theme templates and you can add additional features to your blogs, including social media buttons and forms.
While a WordPress blog allows you to get your creative juices flowing, more will fall on you to maintain your blog. You'll need to make sure all plug-ins are up to date, and optimizing your database will fall on you. If you don't have the time to perform this routine maintenance, WordPress may not be the best choice for your blogging platform. Keep in mind that you can outsource the routine maintenance of your WordPress if you have the budget.
Cost: WordPress itself is free, but you'll have to build the site and maintain it by yourself. You may want to consider pairing it with a hosting provider such as Bluehost, which costs as little as $3 per month.
Wix
Like WordPress, Wix is a free blogging platform. A highlight of this platform is that you can use a drag-and-drop feature to move around items on your blog design. This means everything you do when designing your blog site is on the front end – not the back end, which requires a higher level of expertise.
If you really want a hands-off experience as much as possible, you can select the "Wix ADI" choice, which creates a site for you based on your answers to a questionnaire. Or, you can build your blog yourself, adding multiple elements from menus to forms and video boxes.
An eCommerce component allows you to sell your products through the Online Store app, which also can connect to other eCommerce sites like Amazon and Facebook.
One of the cons of using Wix is that because it's a free site, your blogs will include some elements of Wix branding. Tracking and analytics also require a paid plan. Both are important because they allow you to analyze data and discover insights on user behavior.
Your site also cannot be transferred away from Wix, so if you outgrow the capabilities the site offers, you'll have to start from scratch.
Cost: Free, unless you want premium themes, templates or add-ons, which are an additional cost.
Squarespace
Squarespace is ideal for businesses that rely on high-quality images to sell their products or services. With the platform's award-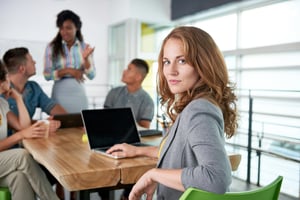 winning templates, businesses can showcase their products through visual content that is both engaging and shareable. 
All of Squarespace's templates are mobile-optimized, which is important in today's digital world. They are also customizable, allowing you to design a blog that reflects your brand. Once pages are designed, Squarespace offers blogging and SEO tools to optimize content.
The platform also allows you to connect your blog to your social media accounts, where you should promote your content. Built-in analytics tools help you determine where traffic is coming from and how they interact with the content you publish.
One downside to Squarespace is that the platform only supports fewer than 30 extensions, so if the ones you need are not offered, you will have to do without.
Cost: $18 to $40 per month for businesses, with more e-commerce features available with the more expensive plans.
Weebly
For those looking for a blogging platform that offers more basic functionality, Weebly is a good choice. Weebly includes everything needed to start a blog, from templates to hosting. You can also add elements like forms and image galleries, as well as include sub-levels in navigation menus. All templates are mobile-optimized as well.
However, for more advanced users, Weebly can offer some sources of frustration. There are certain restrictions that do not allow you to drag and drop elements throughout your posts, for example. You also cannot edit portions of the underlying source code. This makes Weebly easier to learn for new bloggers, but once you become comfortable with designing and publishing your blog, you may start to run into the site's limits.
Cost: Free for basic use, $6 to $26 per month for more advanced uses that include connecting to a custom domain and customization tools.
Ghost
Ghost is an all-in-one platform that allows business owners to run their websites, collect user signups, publish content and collect payments. You can also send email newsletters and add custom metadata that helps improve performance in search engines.
One of the most attractive parts of using Ghost is that detailed XML sitemaps (a file that lists a website's important pages) is built in automatically. That means you don't have to worry about plugins. 
Cost: $9 per month and up based on the number of members, staff users and custom integrations.
Joomla
Joomla offers users a flexible interface, whether you only want to use it to post blogs or to develop a more complex website. Joomia provides a variety of templates and extensions. However, because of the number of extensions, you can customize your site with, designing your blog may seem like an overwhelming challenge. 
Joomla is a great choice for bloggers who are looking for an alternative to sites like WordPress and are capable of taking on customized designs. However, if you're looking for a simple blog, Joomla might require a learning curve.
Cost: There is a free version of Joomla, but private hosting and extensions come with additional costs. The cost of basic software for businesses is $199 per year.
Drupal
Drupal is an open-source CMS that is ideal for more advanced users or larger companies. It features hundreds of modules, but it can take time to learn how to use them. 
In addition to custom post types and page templates, Drupal offers advanced user permissions that allows you to designate site administrators, content editors and other stakeholders. The platform features multilingual capabilities and a layout builder, which allows users to create large, complex blogs, putting you in complete control of how your blog looks.
Cost: Free, but you'll have to pay for a host, supporting technologies and custom development. For more advanced, complex websites, that could mean a lot more money.
Bolt CMS
Bolt CMS is a straightforward content management system that is ideal for small business owners who want a fuss-free blogging platform. The site is built for front-end designers, so it is ideal for non-technical users who do not know coding. 
However, you can still customize your page by using Twig templating language to personalize the themes Bolt provides.
The site doesn't feature an overwhelming number of bells and whistles but instead focuses on simple, clean templates that include a built-in cache system to speed the page up. 
Cost: Free to maintain, but there may be additional costs for hosting and other extensions.
Do You Need Blogging Services?
Writing blog posts is not about writing content that promotes your own company and services. Writing blog posts should be about developing content that speaks to your ideal customers and gives them answers to their problems.
Simply writing these posts is not enough, however. Your prospects must be able to find your blog, and the blogging platform you use is just one part of the equation. The quality of your content, how consistently you post, formatting, keywords, SEO, backlinking and promotion all impact how well your blog posts perform.
As a small business, you may not be in a position to hire a full-time staff writer, not to mention each of the specialists it takes to support a successful marketing strategy that includes publishing a blog.
Blogging is not as easy as it looks and can take a substantial amount of time and effort. A successful marketing agency that includes blogging services can help bring your company the significant return on investment you seek while allowing you to focus on running your business. 
An experienced agency will help you identify your ideal customers, as well as generate high-quality content that drives traffic to your web page. An agency will also:
Utilize its own experienced writers, saving you the expense of hiring freelance blog writers or full-time staff
Perform keyword research and analysis for you to target what content topics should be written about
Take care of any administrative duties associated with the blogs, including editing, preparing them for SEO and publishing them
Create a network of links among your blogs to increase traffic back to your website
Each of the blogging platforms listed above offers its own set of benefits that may be a good fit for your business. However, the best marketing agencies will create an effective plan that includes blogging as a component to consistently generate leads and grow your business.