Wrapped attention: Small retailers getting creative for holiday shopping season | Business
8 min read
PITTSFIELD — For small retailers, the holiday shopping season usually is the most wonderful time of the year.
It brings in more revenue from Thanksgiving and Christmas than the rest of the calendar year, with holiday sales, on average, representing 20 percent of annual sales for most industries, and even 30 percent or higher for some others, according to the National Retail Federation.
'Tis the season, indeed. But, this year, the holiday season is even more important to small retailers in the Berkshires than it normally is. It's hard to be jolly when the COVID-19 pandemic has turned everything upside down.
Many small retailers in the Berkshires were forced to shut for several weeks this spring when the COVID-19 pandemic began to affect the local economy. So, they are putting more emphasis on the holiday season this year as they try to end the year with a traditional bang and make up for the revenue that they didn't expect to lose.
"They're all doing something," said Cheryl Mirer, executive director of Downtown Pittsfield Inc., an organization that represents merchants along the city's North Street corridor. On Wednesday, it launched the "Heart of the Berkshires" e-gift card, which can be used at any participating business in the downtown area.
"Each of them is doing different things, imaginative things," Mirer said.
"It's no secret that the holiday season provides, in normalized times, a huge boost in sales," said Keith Girouard, director of the Berkshire regional office of the Massachusetts Small Business Development Center Network in Pittsfield. "It helps people get through the lean winter months … because of the pandemic and everything, it's creating quite a challenge."
Finding a path
Retailers are making more house calls, or displaying their wares on videos placed on Facebook or YouTube. A florist is holding do-it-yourself events online, while a jeweler has strengthened his store's overall online presence. And everybody is stressing that customers shop local this year.
"There are lots of ideas for gifts, and ways that people can shop without leaving the house," Mirer said.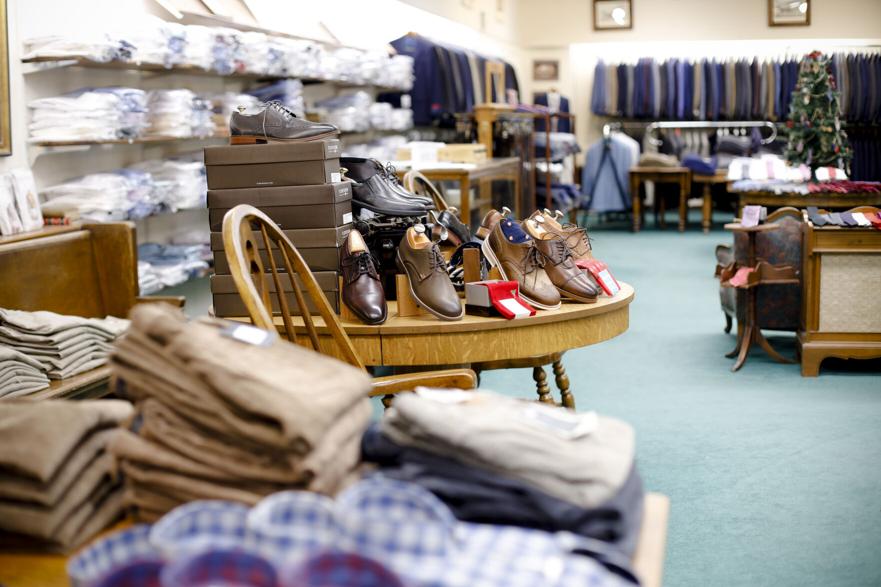 Steven Valenti, who owns Steven Valenti's Clothing for Men on North Street, has made house calls to customers who have special situations, like medical conditions, that kept them from traveling to the store. But, this year, he has opened up the practice to everyone.
"We kind of kept it quiet, for no particular reason. We offered it to people that called us that had a situation," Valenti said. "But, now, obviously, the country has a situation, so we thought we would throw that idea out there. If people feel more comfortable with us coming to them than them coming here, then we would offer that.
"We've been here 37 years, and there's nothing we won't do to please a customer," Valenti said.
Valenti has launched the store's first Facebook page, joined Downtown Pittsfield Inc.'s Facebook page, and is on a page with a company that does Facebook advertising.
"We've increased our online capacity so people can see the store virtually," he said. "Between yesterday and today, we shipped a half a dozen things to people who saw them on our Facebook page or on the downtown page."
Valenti said his store did well on Small Business Saturday, the national promotion sponsored by American Express that encourages consumers to patronize local merchants and that takes place annually, on the Saturday after Thanksgiving. Small Business Saturday celebrated its 10th anniversary this year. But, Valenti has more deficits to make up for this year than in previous years.
"We lost our prom season, which is even bigger than our Christmas season," Valenti said, because his store had to shut in the spring. "And our wedding season didn't really happen."
'Afraid to come shopping'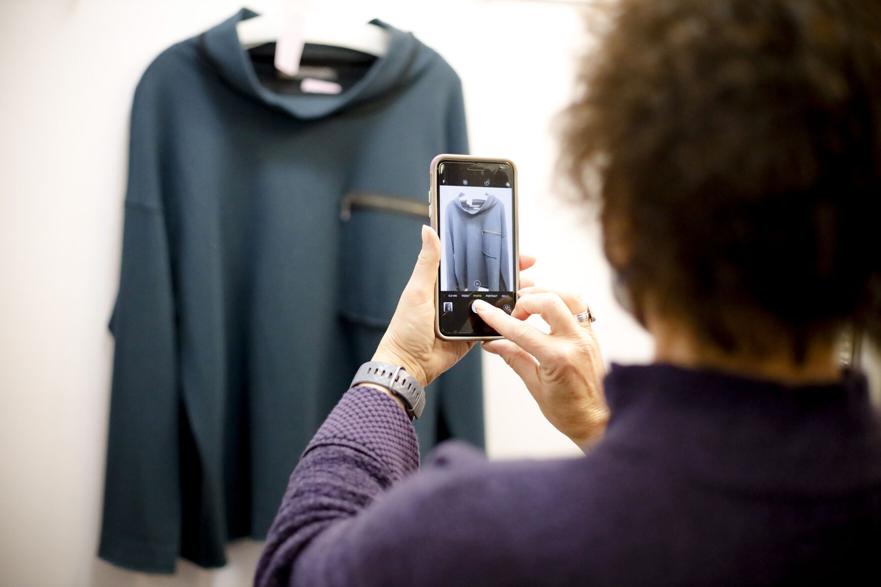 Another veteran small retailer, Judie Culver, who has operated the Purple Plume women's clothing and gift store on Church Street in Lenox for 38 years, is making and posting videos on Facebook and YouTube to attract customers who aren't likely to come to the store.
"We started doing live videos on Facebook in June, when we were shut down," Culver said. "We paused it during the summer because we figured we'd be too busy, then we started it up again because people are getting too afraid to come shopping because the COVID numbers are going up."
Customers can comment on the items that are being shown in real time, then make arrangements to purchase the ones that they like.
"People come on, watch, and they make comments," Culver said. "They can ask questions about the item. They can ask to see it again, and they can ask for the size or how big it is."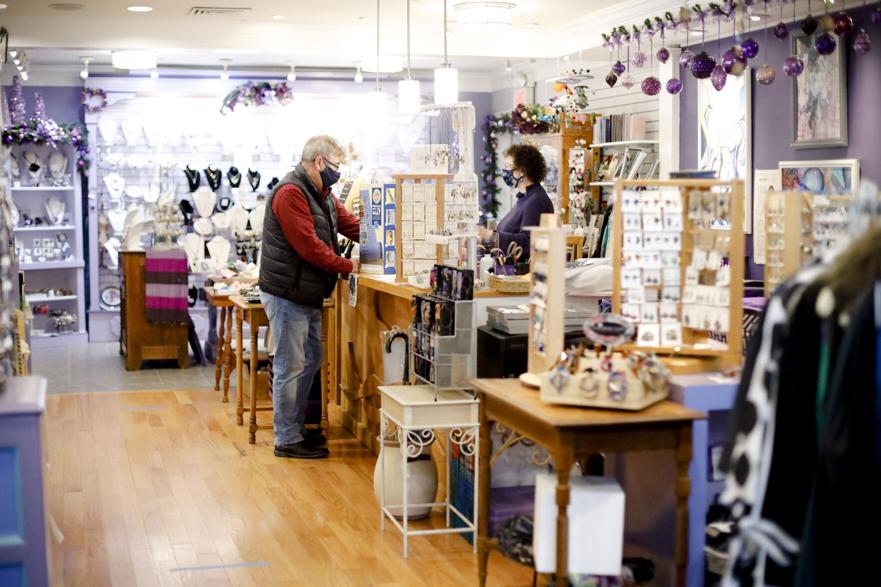 Viewers interested in purchasing items they see in the videos then can contact the store.
"The next day we call them up, get their information and ship it to them," she said.
This week, she will begin posting videos on YouTube for her customers who aren't on Facebook.
"We'll begin mailing our customers the links," Culver said. "So, all they have to do is get our email, click on the links, and they get to see our video. Then they can call the store to see what they need."
The holiday spirit: cross-marketing
Small retailers also have begun banding together to cross-market their products online.
"It creates a more diversified offering for a visitor, which has led to what could be called sort of virtual malls or a mall-like thing where a number of them have gotten together," Girouard said.
"Instead of having a single shop-type thing, now they have more of a marketplace. Basically, what they're doing is expanding the notion of what we think of as a marketplace being either an online location or an online platform where I can go. I know, for example, that DPI (Downtown Pittsfield Inc.) has up to 28 stores where you shop online. The idea is to aggregate traffic in that way."
QR codes also are making a comeback, Girouard said. Retailers and restaurateurs have been gravitating toward the device as a form of payment or ordering so customers don't have to touch anything.
"It's been around for a long time, but now it's re-emerging as a tool.," Girouard said, referring to the expanded use of QR codes. "The idea is to go as touchless as possible. … With restaurants, it's happening a lot in New York City, and we're beginning to see it happening here.
"The interesting thing with that is, you don't have to download an app," he said. "So, the restaurant or the retailer that's using the QR code doesn't have to bear the expense of developing an app and then requiring people to download the app. All you have to do is take your phone, scan the code and it takes you to where you want to go."
Girouard also said small businesses should take advantage of relief programs like the Economic Injury Disaster Loan program administered by the U.S Small Business Administration.
"Some people don't know about it," he said. "They have a portal online. It's a loan, but a low-interest, fixed-rate loan with a 12-month payment deferment."
'You have to reach your customers'
Jed Thompson, who co-owns Township Four Floristry and Home on North Street with Nathan Hanford, said their business has begun holding do-it-yourself classes online to attract customers.
"We are doing some DIY classes and Zoom-based online video-based classes," Thompson said, "because in-person classes were a big part of our annual income. So, we decided to create kits, terrarium or seasonally based kits, for people to take home or to send to other people. We've expanded our online store this year.
"You have to reach your customers however they are interacting with people nowadays, with online being the majority of this," Thompson said. "We're also doing curbside pickup and all that."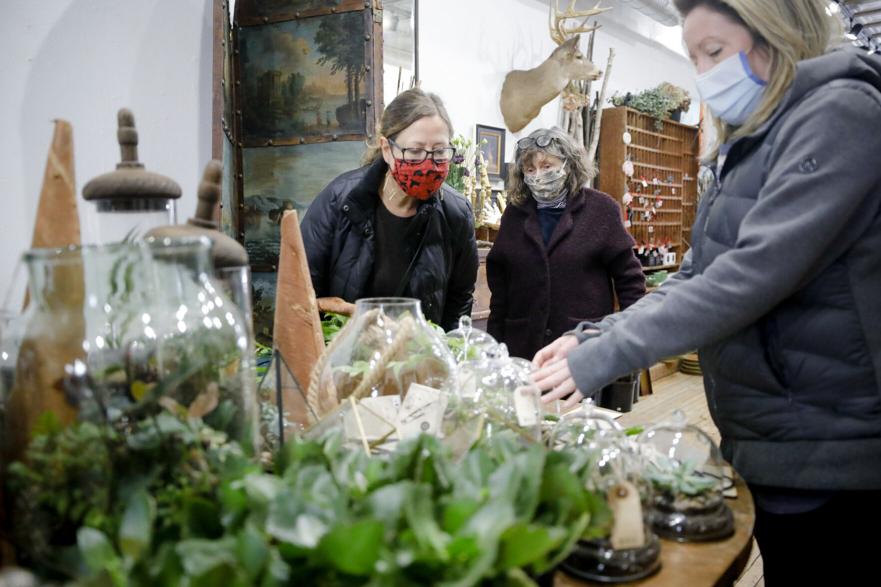 Township Four's online presence was limited before the pandemic hit.
"We had had a pretty active social media presence, but we didn't have an online store," Thompson said. "That was the right business decision to do, and I wish I'd done it earlier."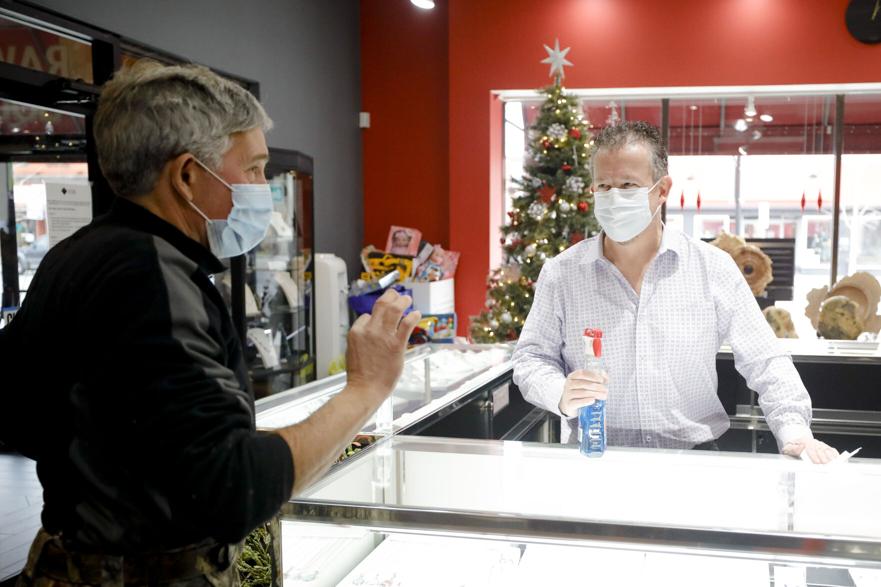 Rick Stohr, who owns RJ Stohr Diamonds & Fine Jewelry in the Crawford Square building on North Street, also has expanded his store's online presence.
"We're trying to operate more where we're giving people more options," Stohr said. "We've never paid attention to having a website in 13 years of business, because jewelry is something that you always touch and feel. I always preferred them coming into the store instead of providing one-dimensional photos.
"But, because of social distancing now, it's going to be difficult. Normally, it's nothing to have six to 10 people in the store at one time, but we just can't do it this year."
Stohr said customers still will need to come to his store to purchase items.
"We're pushing on social media and on the radio; we need to be more prepared," he said. "We don't want to wait until the last minute so we have to stick people in the hallway … and we don't want to turn people away."
Stohr refers to the holiday shopping season as his store's "bread and butter."
"People think Valentine's Day in jewelry or Mother's Day, but those are just tiny little blips on the radar," he said. "Christmas is 60 percent of our revenue stuffed into one month."